February 2019 Instagram Sprint
Grow Your Instagram Followers in 30 Days
Do You Want Grow your Instagram Following, Build an Engaged Audience…And Gain Instagram Authority in 30 Days?
Dear Fellow Instagram Lover!!
If you want to grow your Instagram profile, build an engaged audience AND gain Instagram authority with brands, this might be the most important message you'll read all year. Here's why…
We have just released an exclusive program called "The Instagram Sprint - An Accountability Group."
Here is a taste of what you'll discover in this astonishing group:
The Secret to Building an Engaged Audience QUICKLY on Instagram
A Complete Step-By-Step, Day-By-Day Guide to Gaining ACTIVE Followers
How to Engage the RIGHT Audience for YOU
That's just a small sample of what you'll get when you take advantage of this exclusive group.

By now you're probably wondering "How much does this cost"
A mastermind group, like "The Instagram Sprint" can cost $200 or more and NONE of them can hold a candle to The Instagram Sprint.
But we have a big savings for you!
Having a guide walk you through what to do everyday can cost hundreds of dollars a month! We charge $75 for each 30 minute coaching session you book with us...times that by a month and the costs would be $1500 or more! But, when you sign up today you will be part of our Instagram Sprint for just $30!
For just $30 you'll get a full month of daily coaching in our private Teachable Group. You'll connect with others who are growing their Instagram accounts as well.
THIS IS NOT ANOTHER COURSE!
We're all burnt out on course after course telling us we could do this or we could do that. This is a revolutionary new avenue we are taking with our students and we've seen AMAZING results so far. This is an accountability group...we share what needs to be done and you take the 10 minutes to do it. There's accountability by working together with others to reach the same goal!
So what's our hidden motive? Why are we practically giving away this Instagram Accountability Group? We're in the BETA test stage and need testimonials on how well our system works. Plus, once you see how easy this program is to follow and the results it produces you'll be telling everyone you know to join The Instagram Sprint! And, we'll have an affiliate program which you'll have first crack.
This month is just $30 and when you sign up today...you'll be grandfathered in at this low price! But, the price will go up.
Plus, we still make a little profit. It's really a win-win situation.
Get ready to grow your Instagram following, build an engaged audience, AND gain Instagram authority!
Plus, we offer 100% money-back guarantee! If you participate daily and don't see your Instagram grow at least 250 followers in 30 days then we'll completely refund your $30!
Your Instructor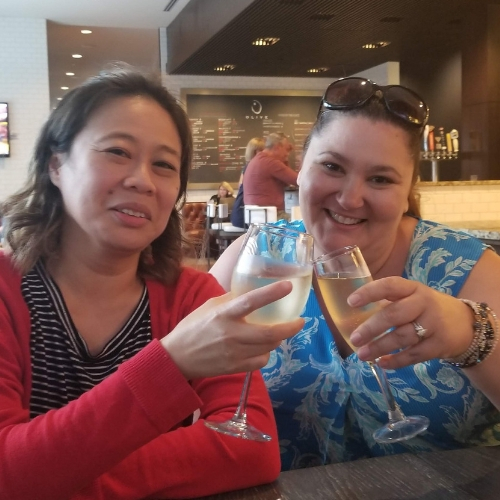 Melissa and Herchel are the business partners behind the highly successful Blog Life University Conference and owners of Social Influencer PRO.
Herchel has been a lifestyle blogger on
Gym Craft Laundry
for over 5 years and recently published the book
Let's Collab
a resource for tribe building in this world of online business.
Over the years we have turned our social influence into full-fledge businesses that support our families and have given us a lifestyle beyond our wildest dreams! Now we teach others how to grow their social media influence and turn it into a business.
Class Curriculum
Welcome to the Instagram Sprint!!
Available in days
days after you enroll
Monday 2/4
Available in days
days after you enroll
Tuesday 2/5
Available in days
days after you enroll
Frequently Asked Questions
When does the course start and finish?
You will have access to the Instagram Accountability Group right away to start connecting with other members. The daily tasks will begin on January 1st and end on January 31st. You will have access to the group until February 5th to catch up on any missed daily tasks.
How is this different than another course?
We all know WHAT to do for the most part...right? If you're anything like us then you probably have several courses that you've "collected" over the last few months but never really took the time to implement or even finish. This is an accountability group where we all encourage each other to do simple daily tasks to help us grow our Instagram. The comment features are open on this "course" so we can interact with each other, offer advice, different points of view, share what's working and what's not, etc. We chose the Teachable platform to host the Instagram Sprint Accountability Group due to ease of use...things don't get jumbled up like it does on Facebook.
What if I am unhappy with the accountability group?
We would never want you to be unhappy! If you are unsatisfied with your purchase, contact us in the first 10 days and we will give you a full refund. Plus, if you're actively participating by doing the daily tasks and still don't see an increase of at least 250 Instagram followers then we'll refund your membership dues.